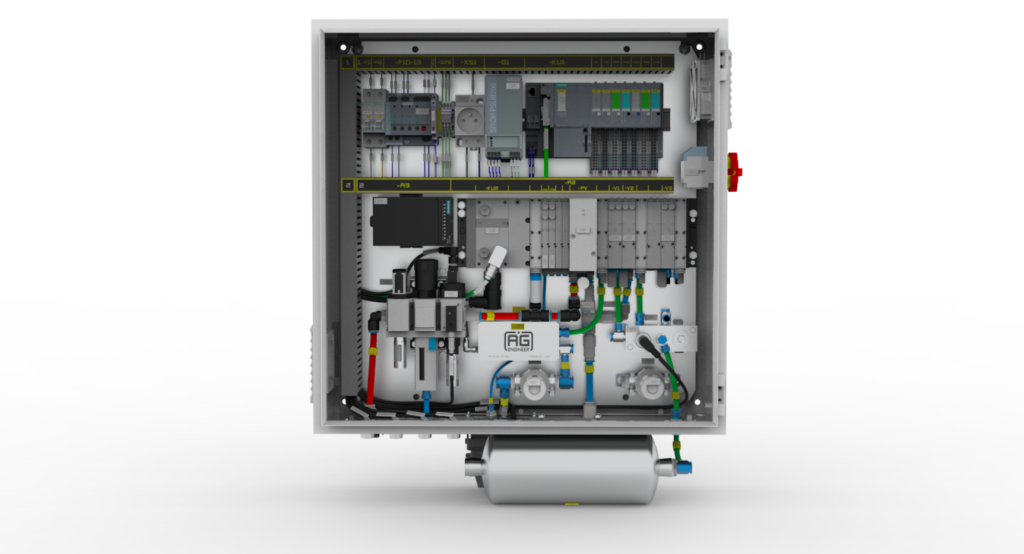 The tightness test device is a serial device designed for continuous operation, powered by 230V from a standard electrical network and 6 bar compressed air. To convert the leakage value in units [cm3 / min], the leakage conversion characteristic is used, for each method separately.
Inside there are two key components, the SIMATIC ET200SP control unit and the FESTO CPX valve terminal. The entire device is controlled via a control panel and a visualization environment created exactly for the application.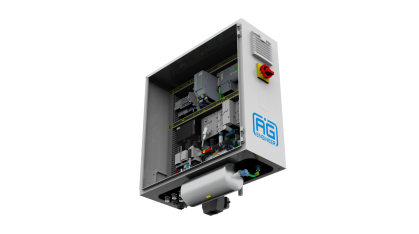 The power supply is switched on by the main switch on the right side wall of the distribution box. Air ventilation in the distribution box is provided by a 24V fan, located above the main switch. In the lower part of the distribution box there are connection connectors for media, communication and digital inputs and outputs.
In this part there is also a connecting hybrid connector for connecting the measuring adapter. In the upper right part there is a pressure vessel for compressed air. It is designed to allow rapid heat transfer with the environment. It is marked with the symbol "do not touch" to prevent the measurement process from being affected.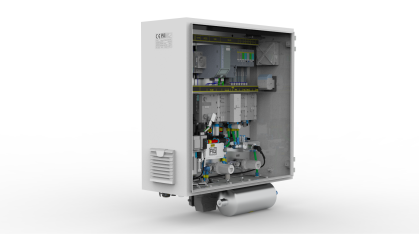 During the leak test of the gearbox, a negative pressure (vacuum) is created in the device and in the tested part of the gearbox, when the measuring pressure reaches the value P = -500.0 mbar. Subsequently, the leak tester uses two measuring principles to measure the leak, based on measuring the pressure difference over the measurement period and the air flow between the measuring device and the gearbox.
The main part of the leak test equipment is the RITTAL distribution box containing the electrical and pneumatic components of the equipment. It is powered from the classic 230V / 1A mains distribution. Inside there are two key components, the SIMATIC ET200SP control unit and the FESTO CPX valve terminal.
The entire device is controlled and visualized via the Q PRODUCTS HUMIN visualization panel, the environment of which was created in the SIEMENS SIMATIC TIA Portal V14 application. The visualization of the device is divided into three parts. The first part consists of the header, the second body and the third the heel of the visualization.
Our company operates in the field of industrial automation. It deals with design, development, design, wiring and filtered engineering, according to customer requirements.
When solving projects, we work with the latest technologies, we provide comprehensive services from design to delivery of equipment to customers. Of course, our work is the delivery of the necessary documentation and training for the operation and maintenance of the supplied equipment.
The company further specializes in the implementation of specific applications, such as integration work and optimization of device functionality. AG Engineer is a guarantee of a complete systematic solution for your production.