BODY TYPE RECOGNITION BY CAMERA SYSTEM

The application is used to distinguish 22 types of bodies from bodies of other types in the main tank and then move to another transport branch. When the body arrives at the checkpoint, a snapshot of the TPS label is taken. By analyzing the image, you get the PIN number of a specific body. Based on the PIN number obtained, the request is sent to the FIS database to the "Laufende Nummer" and the type of the corresponding bodywork.
Depending on the body type, the control unit decides whether to move to another branch or to continue in the main tank.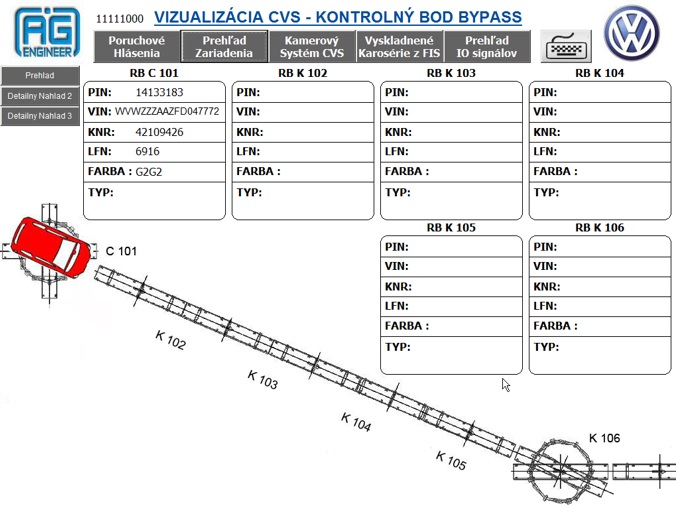 The functionality of the entire system is ensured by three applications, the icons of which are located on the VISION PC desktop. These are the CVS application serving the camera system, the FIS_BYP3 application providing communication with the FIS production management and the WinCC Flexible application, which is used to visualize the workplace. Special settings in the visualization are protected by a user password.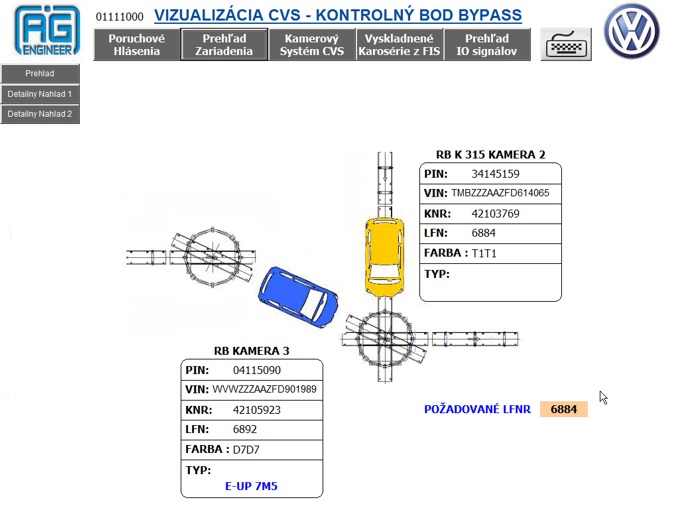 In the case of transfer to Bypass, the body is transported to three workplaces AP1 (ArbeitsPlatz), AP2 and AP3, each of which is equipped with a visualization panel TV1, TV2 and TV3 informing about the assembly to be performed on the given body. After assembly, the body is moved back to the main tank sequence to its original location, based on the LFN.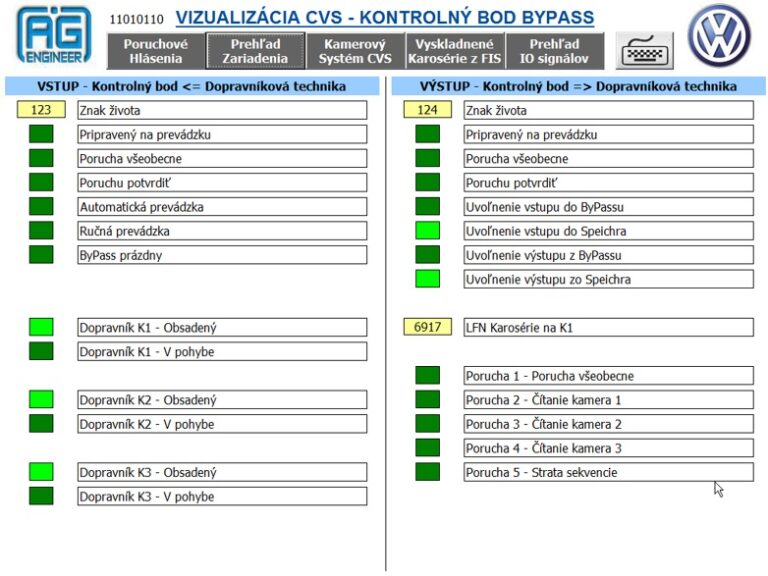 Our company operates in the field of industrial automation. It deals with design, development, design, wiring and filtered engineering, according to customer requirements.
When solving projects, we work with the latest technologies, we provide comprehensive services from design to delivery of equipment to customers. Of course, our work is the delivery of the necessary documentation and training for the operation and maintenance of the supplied equipment.
The company further specializes in the implementation of specific applications, such as integration work and optimization of device functionality. AG Engineer is a guarantee of a complete systematic solution for your production.