LASER STATION OF PRODUCTION LABELS V1.0

The laser marking station is used to print a TPS label on the marking tape, which is then glued to a designated place on the vehicle body. The station has one tape path and one tray for TPS labels.
The marking is performed using an OEM TruMark 5020 laser unit from TRUMPF. The TruMark 5020 laser head has the ability to describe a field of size 230 × 230 mm. The user can log in to the device by attaching an input (MFP) to the reader.
The SIEMENS IPC677D control panel is located on the main switchboard. You can use this panel to control the device. The environment is created in the SIEMENS SIMATIC TIA Portal V15 application. The visualization of the device is divided into several windows. However, some elements do not change when switching between windows.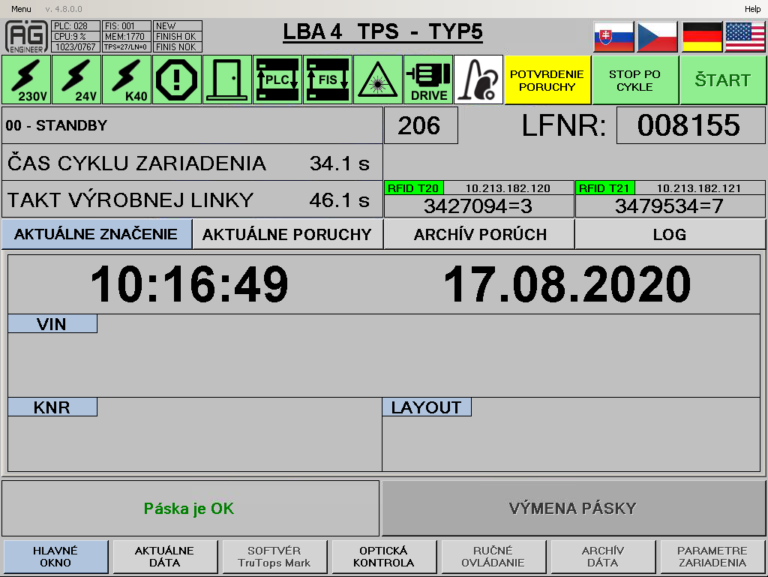 After description, the tape is laser-extended towards the finished tape magazine and cut with a disc knife, which is driven by a stepper motor L5918S2008-T10x6 from the company NANOTEC.
Our company operates in the field of industrial automation. It deals with design, development, design, wiring and filtered engineering, according to customer requirements.
When solving projects, we work with the latest technologies, we provide comprehensive services from design to delivery of equipment to customers. Of course, our work is the delivery of the necessary documentation and training for the operation and maintenance of the supplied equipment.
The company further specializes in the implementation of specific applications, such as integration work and optimization of device functionality. AG Engineer is a guarantee of a complete systematic solution for your production.