REFUELING STATION CONTROL

The NSF filling station is used for refueling NSF vehicles with SUPER and DIESEL fuels on the ML03 assembly line. It consists of a refueling stand and a switchboard on which the control panel of the SIMATIC Comfort Panel is located.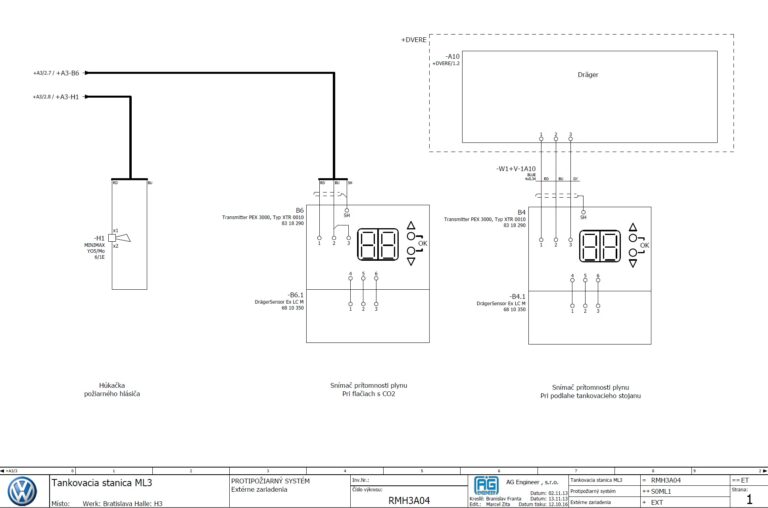 The readiness of the stand is indicated by a green traffic light on the relevant refueling gun. If the refueling process is in progress, the filling process is indicated by the actual filling quantity and on a measuring scale. If it is necessary to adjust the filled quantities, or to add a new type of filled vehicle, this is possible in the table of type parameters. Opening the spreadsheet is conditional on the user logging in.
If the vehicle's KNR has not been automatically read from the RFID or scanner, the KNR can also be entered manually. To call up the manual KNR entry, press the "Scanner Enter KNR" button at the bottom of the screen.
Manual operation is used for manual refueling, when the required quantities are selected using function keys K1 to K8. The selection of manual operation is indicated by a blue highlight.
The corresponding fuel quantities are set in the table "Filling parameters K1-K8". The type of media to be filled is selected with the MEDIUM SUPER or MEDIUM DIESEL buttons. The selected media type is indicated by the blue highlighting of the button for the corresponding media type.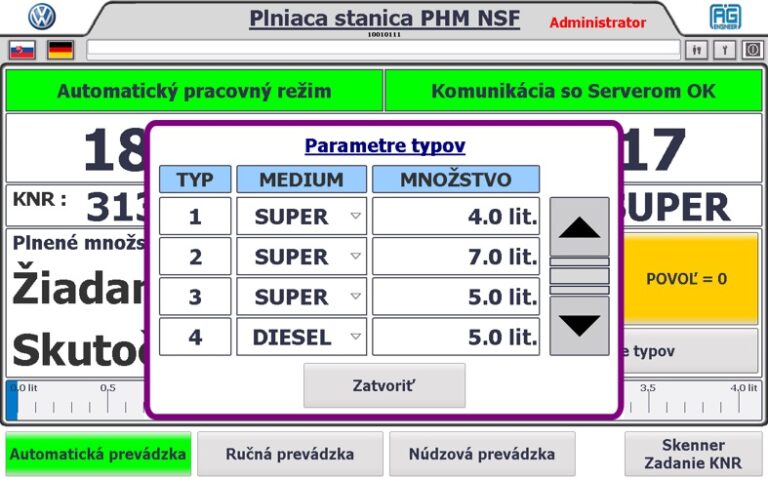 Automatic device operation is the most commonly used operating mode on the device. The mode selection is indicated by a green highlight. Selection is not conditional on the user's login. In this mode, vehicle KNRs are automatically read from the data carrier or by a barcode scanner. After loading the KNR, a request is sent to the filling server, which sends information about the vehicle type to the filling station. From the vehicle type, the station determines what is the required filling quantity and what type of filled medium it is (DIESEL or SUPER). Vehicle types are entered in the "Type parameters" menu.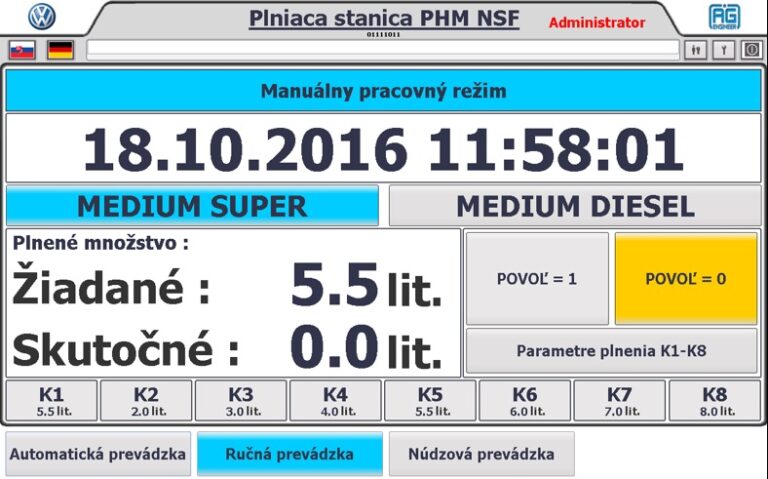 Our company operates in the field of industrial automation. It deals with design, development, design, wiring and filtered engineering, according to customer requirements.
When solving projects, we work with the latest technologies, we provide comprehensive services from design to delivery of equipment to customers. Of course, our work is the delivery of the necessary documentation and training for the operation and maintenance of the supplied equipment.
The company further specializes in the implementation of specific applications, such as integration work and optimization of device functionality. AG Engineer is a guarantee of a complete systematic solution for your production.