ROBOTIC VIN MARKING WORKPLACE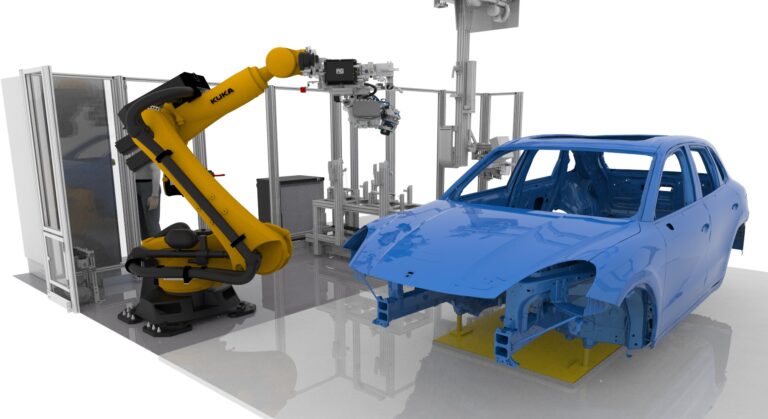 Fully automated workplace of the process of VIN numbers markingon the body. The robot positions the marking head using a camera system and punches the VIN number to the specified location. The workplace is enclosed by fencing and contains sophisticated security elements for the protection of workers and the process of VIN numbers marking.
Before marking the VIN number itself, it uses a aiming system consisting of several sensors and a 3D camera to perform a series of six measurements, based on which the robot corrects the coordinate system, thus preventing collisions with the body and ensuring accurate guidance and clamping of the marking head in the body.
After clamping, the marking head embosses the VIN number, which is then scanned by the robot with a 3D camera. The robot automatically returns to the basic position. The camera communicates with the PLC via an Ethernet network. Some of the calculations run in the camera itself, where some tolerances are set.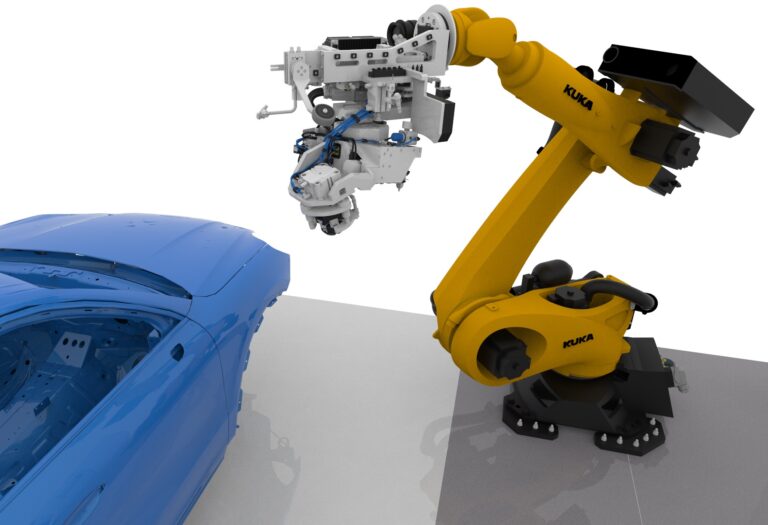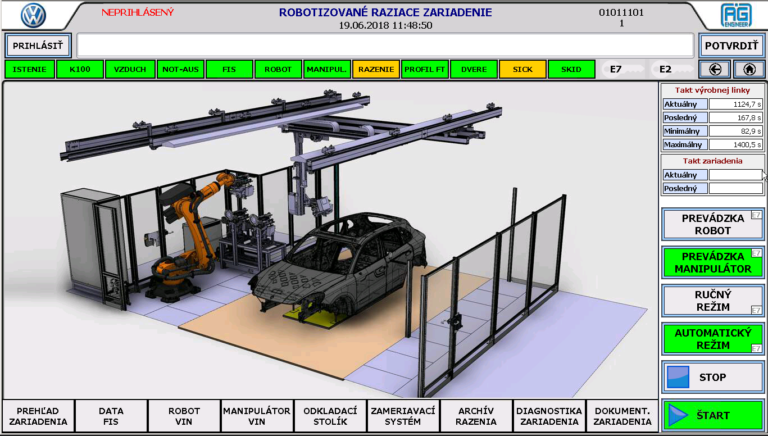 The VIN number is displayed on the screen on column D2, where the worker checks its correctness by comparing it with the VIN number from the FIS and confirms with the VIN IO / VIN NIO button.
At this point, the conveyor technology receives a signal and the skid can be moved to the next cycle. The SIEMENS IPC 477E touch panel is located on the ++ 1SV switchboard. An application is operated on this panel, which is used to operate the device. The application is created in the SIEMENS TIA Portal V14SP1 program. The application consists of individual windows that display information and contain functions that are necessary for the operation of the device.
Our company operates in the field of industrial automation. It deals with design, development, design, wiring and filtered engineering, according to customer requirements.
When solving projects, we work with the latest technologies, we provide comprehensive services from design to delivery of equipment to customers. Of course, our work is the delivery of the necessary documentation and training for the operation and maintenance of the supplied equipment.
The company further specializes in the implementation of specific applications, such as integration work and optimization of device functionality. AG Engineer is a guarantee of a complete systematic solution for your production.